Shares Shredding and Recycling
Shares Shredding and Recycling is the confidential document destruction and recycling division of Shares, Inc. which is a non-profit agency that has been providing value added services to Central Indiana businesses since 1976. We not only provide industry leading destruction services to governmental agencies and commercial businesses but we also provide a work setting for adults with developmental disabilities that emphasizes productivity, safety, and independence to improve work and social skills.
Shares Shredding and Recycling is AAA Certified through NAID (The National Association for Information Destruction), which is a 3rd party security auditor that ensures that our destruction process meets the highest of industry standards. Confidentiality is our focus throughout the collection, destruction and recycling processes. We ensure that your materials will be collected and destroyed in compliance with Federal Privacy Laws including, but not limited to: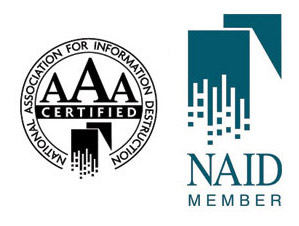 HIPAA (Health Insurance Portability and Accountability Act)
FACTA (Fair and Accurate Credit Transaction Act)
Sarbanes-Oxley / (All publicly traded businesses)
Gramm-Leach-Bliley / (Financial Institutions)
100%
of all materials destroyed are recycled and all proceeds from collection fees and paper sales will be reinvested into supportive programs for persons with disabilities in Central Indiana. A true WIN WIN for any community minded business looking to protect their business records, keep paper waste out of landfills, and provide opportunities for others in their community.

For more information call 317-398-8497 or
click here